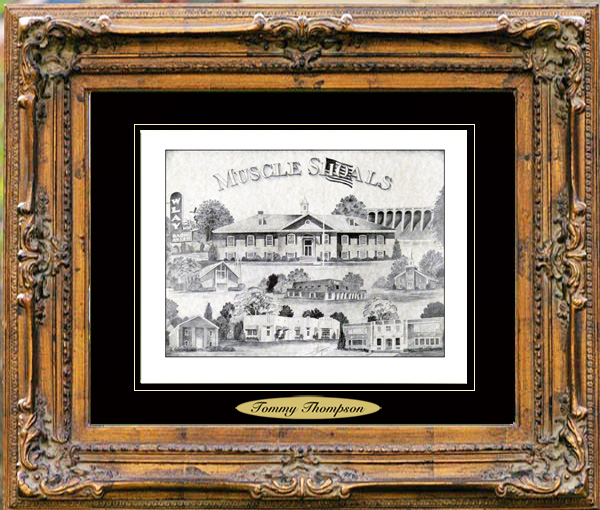 Muscle Shoals, Alabama is approximately 30 miles south of Tennessee and approximately 20 miles east of Mississippi. Muscle Shoals touches the banks of the Tennessee River, which is a source of the rich history of the town. Indians first inhabited the lands bordered by the Tennessee River that we call the Shoals area today.
In 1918 a year after the United States entered World War I, the building of Wilson Dam began. The United States needed nitrates for ammunition and explosives, prompting President Woodrow Wilson to approve the building of two nitrate plants and a dam to supply needed electricity for the plants. The first nitrates were produced in November 1918.
In 1921 automotive tycoon Henry Ford, accompanied by Thomas Edison, came to Muscle Shoals with a vision of transforming the area into a metropolis. The rumors of Ford's plan hit the streets and real estate speculators began buying up land. Congress turned down Ford's offer to purchase Wilson Dam and formed the Tennessee Valley Authority (TVA) to develop the dam and the entire river valley. TVA began a comprehensive program of river and dam development. This contributed to the conservation and utilization of natural resources.
In the 1960s Rick Hall, a legend in the music industry, located a major industry of another kind in Muscle Shoals. He named his business, FAME Recording Studio. Hall brought many famous bands and singers, including Aretha Franklin, the Osmonds, Mac Davis, and Duane Allman to Muscle Shoals to record hit songs. A documentary movie, "Muscle Shoals: The Movie," created by Greg 'Freddy' Camalier and Stephen Badger, has been produced that has received worldwide acclaim. The DVD is available through Amazon and on Netflix. While on vacation in June 2015 in Essex, CT, Tommy and Marie Thompson were surprised when they met a couple who said they wanted to visit Alabama after seeing the movie about Muscle Shoals. Tommy Thompson's composite drawing of Muscle Shoals can be seen at this link:  https://www.villageprints.com/drawings/al/muscle-shoals-alabama