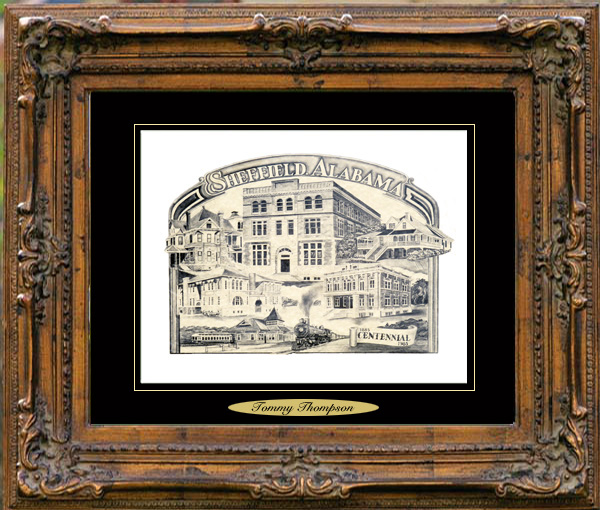 Situated on the banks of the Tennessee River, Sheffield, Alabama, known as the "Center of the Shoals," is centrally located between Florence, Muscle Shoals, and Tuscumbia in northwest Alabama. In 1815, General Andrew Jackson and his troops following the Military Road crossed the Tennessee River at what is now known as Sheffield. The exact crossing site is still called Jackson Hollow today. Two years later, in 1817 General Jackson and his troops returned to this area and camped on the bluff above the river. Around the campfire Jackson and his fellow officers decided that no other site was so promising for a township as the one where they were camping. A few months later Jackson officially recommended the site where the Military Road crossed for the establishment of a town. The United States Secretary of War laid out a town precisely at that point and called it York Bluff. At the United States Land Sales in 1818, Jackson himself purchased quite a bit of land. By 1885, the area was incorporated as Sheffield, Alabama.
Sheffield features three historic districts with antebellum and Victorian-era buildings. Sheffield's rich music heritage goes back to the 1950s when new fad Rock n' Roll music began to sweep the nation and the roots of Jazz were being established as an American tradition. Many top songwriters and performers cut vinyl at Jackson Highway Studio and Muscle Shoals Sound Studio. The Jackson Highway Studio was even pictured on the cover of Cher's 3614 Jackson Highway album.
Sheffield is the birthplace of "country-soul pioneer" and songwriter Arthur Alexander; French horn player Willie Ruff; notable attorney, actor, former senator and presidential contender Fred Thompson; Watergate committee U.S. Senator Howell Heflin; and U.S. Senator Mitch McConnell, whose father was working in nearby Athens when he was born. It sometimes is referred to as "the City of Senators" due to the births of Heflin, McConnell and Thompson within its borders. Col. Harland Sanders, founder of Kentucky Fried Chicken, worked in the Sheffield depot for Southern Railway in the 1900s. At Sheffield's Muscle Shoals Sound Studio, many popular 20th century musicians recorded their work, including Alexander and Ruff.
Tommy Thompson's prints of Sheffield, AL (https://www.villageprints.com/drawings/pencil-drawings-alabama-towns/sheffield-alabama/)  are available for purchase at York Bluff Antiques and Collectibles in Sheffield. Visit Sulynn Reach if you are interested in purchasing one of these 11×14 prints.