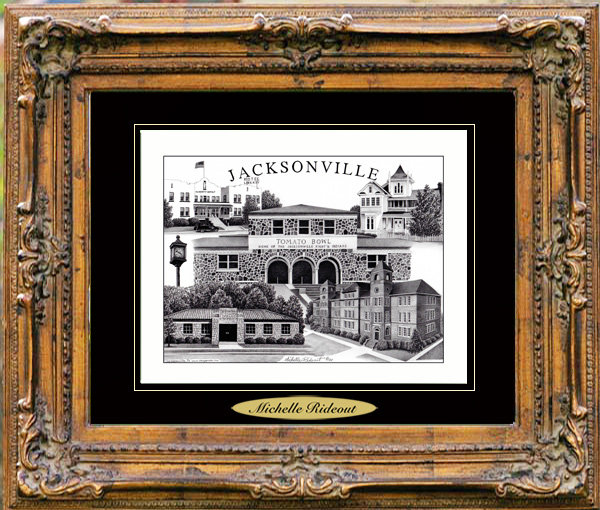 Jacksonville is located in an area of rolling hills in East Texas, north of the county seat, Rusk, and south of Tyler. Area production and shipping of tomatoes gained the town the title "Tomato Capital of the World." The impressive red iron ore rock Tomato Bowl, built by WPA workers during the Great Depression, is home to the Jacksonville High School Fightin' Indians. The Village Prints drawing of Jacksonville, Texas, produced by Michelle Rideout, depicts several landmarks of the town including the famous "Tomato Bowl" stadium, the Library, the old high school, historical homes, etc.
Annual events include the "Tomato Fest" celebration in June, and the "Tops in Texas Rodeo," held in July. It is the hometown of country music singers Lee Ann Womack and Neal McCoy, Detroit Lions Quarterback Josh McCown, Tampa Bay Buccaneers Quarterback Luke McCown, Jacksonville Jaguars' punter Toby Gowin, and former New York Jets Tight End and Defensive End Pete Lammons.
Jacksonville began in 1847 as the town of Gum Creek. Jackson Smith built a home and blacksmith shop in the area and became postmaster in 1848, when a post office was authorized. Shortly afterward, Dr. William Jackson established an office near Smith's shop. When the townsite was laid out in 1850, the name Jacksonville was chosen in honor of these two men.