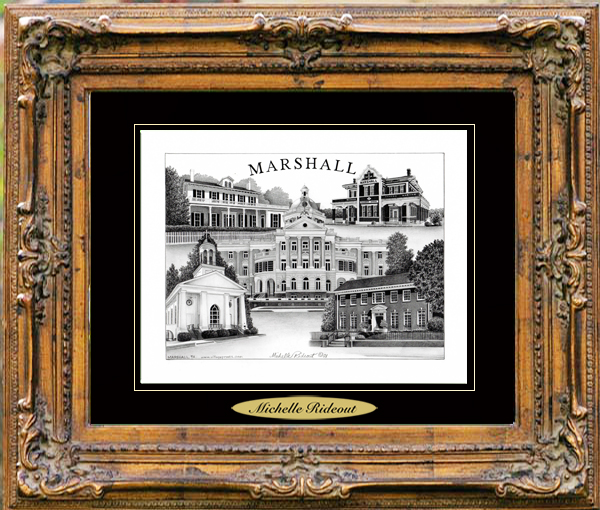 Marshall, Texas has several famous sons and daughters. Lady Bird Johnson, wife of President Lyndon Baines Johnson, graduated from Marshall High School. Lady Bird got her nickname from a family maid who said she was as cute as a "Lady Bird." Lady Bird became famous for her work to encourage the planting of wildflowers along our nation's highways (see Lady Bird Johnson Wildflower Center). George Edward Foreman, a former boxer, who was a world Heavyweight champion and an ordained Christian minister, was born in Marshall, Texas. George is probably most famous today for his "George Foreman Lean Mean Grilling Machine." Another famous son of Marshall is Huddie Ledbetter, a guitarist who wrote such famous songs as "Goodnight Irene"and "The Midnight Special." Journalist and television commentator, Bill Moyers, and football great, Y. A. Tittle, are two more famous sons of Marshall.
Marshall, Texas, is a Norman Rockwell painting that has come to life. It is just one of the towns that have been captured on paper by the Village Prints artists. The Marshall print was created from a pencil drawing by Michelle Rideout. Village Prints has completed drawings of more than 300 towns in Alabama, Arkansas, Florida, Georgia, Kentucky, Louisiana, Mississippi, Missouri, North Carolina, South Carolina, Tennessee, and Texas. The originals are pencil drawings, featuring composites of outstanding landmarks and historical buildings such as those in Marshall, TX. Limited-edition prints on parchtone paper are then produced from the drawings.
These art prints, which portray the historical and architectural heritage of Marshall Texas, quickly become collectors' items. Each print is signed and numbered. The art prints make excellent gifts for all occasions and are especially appropriate for professional offices. Some professional people have collected all of the prints of their particular regions.
On the Marshall, Texas page,  interested parties may purchase a print of Marshall by clicking on the PayPal logo below the drawing.